Carpet Flooring in Fort Myers, FL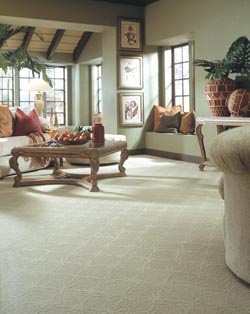 Carpet is one of the most widely preferred flooring materials because of its comfort, its durability, and design versatility. When installed properly and maintained, you can have the utmost confidence that it will look great for many years to come. When you're looking to get the most out of your interior remodeling effort, visit Carlson's Flooring America for premium carpet flooring in Fort Myers, FL.
After entering a carpet store as expansive as ours, the impressive amount of choices we have on display may seem daunting at first, but you'll soon love our massive selection. Inside, you'll find ideal materials for nearly any home, including pet-friendly carpet. As a result, you'll easily be able to factor the needs of your household and lifestyle into your home investment.
As always, our knowledgeable specialists are eager and ready to help you find the ideal choice for your space. Once we've found the materials for your interior, we'll provide you with a full carpet installation to ensure every inch of your new floors is placed perfectly.
Carrying Residential and Commercial Carpeting Options
We strive to provide our customers with the best value on residential and commercial carpet, along with offering the highest levels of care and customer service. As a part of the Flooring America retail group, we enjoy the buying power of our nationwide provider, which means we're able to offer some of the finest carpet flooring available.
You'll notice that we proudly carry an impressive selection of premium floors from a handful of the industry's top manufacturers. Browse our impressive assortment of carpets, including options made from a wide array of colors, textures, styles, and fibers -- even rental property carpet. On any given day, you'll find the following:
Berber
Nylon
Polyester
Frieze
Wool
Offering Carpet Installation and Replacement
Making sure your new flooring solution offers enduring beauty and performance starts with a personalized carpet installation from our skilled associates. We'll make sure every inch of your new flooring solution is placed correctly. As part of our comprehensive flooring service, we also offer residential and rental property carpet replacement to help you get the most out of your floors. When we finish, you'll be left with a new surface underfoot that will continue to serve you well throughout the years.
Contact our flooring store to learn more about our residential and commercial flooring options. We proudly serve clients in Fort Myers, Florida, and the surrounding areas.