Hardwood Flooring in Fort Myers, FL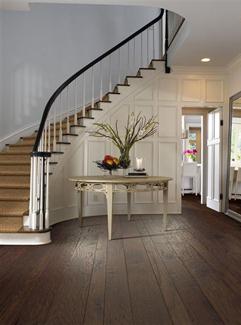 Purchasing hardwood floors is always a worthwhile investment that adds to both the appearance and the overall worth of any home. Both engineered and solid hardwood flooring significantly improve the interior aesthetics of your home while simultaneously increasing its real estate value. If you are searching for the most luxurious hardwood flooring, then visit our flooring store to browse our extensive selection of wood species, finishes. When you put your trust in our extensive experience, you can depend on us to guide you to the flooring products you seek. We feature an expansive inventory at our store, so you are sure to find the perfect type of flooring that fits within your financial plan without compromising style for affordability.
When you visit our showroom to see all of the hardwood choices that we have to offer, we guide you toward the styles that work best for your personal preference and individual budget. We gladly discuss any ideas that you may have for the design of your home's floors and combine them with our specialized design skills to arrive at the most stylish choice possible. Our staff utilizes a vast amount of resources and a background in the industry to provide customized solutions that are made to benefit your home. Engineered wood offers the same gorgeous look as solid wood and is even easier to maintain. Each piece of engineered wood flooring is made from multiple layers of different materials. They are fixed together using a special technique to make the interior of the wood flexible and resilient. The top layer is made of real hardwood, giving the surface of your floor an authentic appearance.

A perfect choice for basements and bathrooms, this flooring is highly resistant to water and humidity, so you never have to worry about it warping. It may be the right product for you if you enjoy a more luxurious look, but at a less expensive price. At the end of the day, these floors keep more money in your wallet and contribute to the environment by providing eco-friendly options for the floors of your home. Solid hardwood flooring is known for its warm, rich appearance. A great way to increase the value of your home, this flooring option ages beautifully. To ensure your new hardwood floors fit properly and last as long as possible, you should only trust a seasoned professional to perform the installation. We make sure your solid hardwood floors are installed in the right way to maximize its longevity. These floors are designed to give a classic and timeless look to any home, regardless of whether your style is rustic, modern, traditional, or Victorian. No matter what type of décor is featured in your home, solid hardwood floors are guaranteed to make it look its best for years to come.
Your Destination for Luxurious Hardwood Floors
Shopping for hardwood flooring is simple when you visit our showroom to browse our inventory, which includes a wide selection of unique styles, colors, finishes, and grains. Those with a taste for the finer things in life are sure to appreciate the many high-end options available for hardwood floors at our flooring business. We offer affordable wood prices for exquisite materials made from all varieties of wood species. While you want your hardwood to look attractive, you also need it to be resilient. The quality hardwood floors available at our store offer an excellent blend of aesthetics and functionality. Not only do we boast premium products, but we also provide quality installation skills for meticulous results for both engineered and solid hardwood flooring.

Whether you're remodeling your home or simply need to replace a damaged section of flooring, our professionals provide the detailed services you require. Our flooring replacement services skillfully restore your floors as well as the investment you've made in them. We have the materials and experience to ensure your hardwood flooring installation job is done properly. Hardwood adds a great deal of value to any home in which it is installed, and it also adds a wonderful sense of unique character that gives your home a distinctive touch. When you decide to renovate any of the rooms in your home, consider the lasting elegance and durability of these stunning floors.
Sturdy and Secure Hardwood Flooring Installation
As part of our comprehensive flooring solutions, we specialize in handling every aspect of hardwood floor installs, from the initial inspection to the placement of the floors in your home. When you work with us, your home's hardwood floor installation is efficient and affordable. With the guaranteed lowest installation rates in the area, you can enjoy a new luxurious floor that fits with your budget.
To get even more out of your purchase, allow us to handle the installation of your hardwood flooring to ensure that it is done properly and lasts for many years to come. When guests visit your home, they'll be impressed not only by how beautiful your floors are, but also by how much you saved by choosing our affordable flooring showroom as your destination for products and services. You can count on our guidance for providing expert hardwood flooring installation services. Our friendly staff utilizes their many years of valuable hands-on experience to deliver the most satisfying services to your home. When you choose us as your flooring professionals, we guarantee that your new design investment will look great far into the future and improve both the look and the overall value of your home.

We know how exciting it is to have a new floor in your home, so we are committed to meeting and exceeding your expectations for the new flooring that we provide. Our company's pledge is "to provide you with a level of personalized service that is matched by any home improvement center or other flooring store – and to do everything in our power to earn your trust, business, and recommendation to your friends." The following is a step-by-step breakdown of what we do to prepare for and complete each hardwood floor installation:
Old Flooring Removal
Underlying Surface Preparation
New Product Placement
Thorough Hardwood Sealing
Comprehensive Floor Polishing



Contact us today to discuss the kind of hardwood flooring that would best suit the style of your home. We are convenient located to serve customers in and around Fort Myers, Coral Gables, Punta Gorda, Cape Coral, and Estero, FL.