Explore Our Stylish Luxury Vinyl Planks in Fort Myers, FL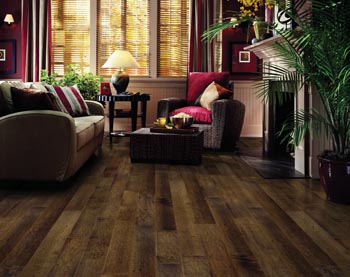 Whether you prefer to follow modern trends or stick with timeless looks, Carlson's Flooring America is the place to go. Our diverse collection of luxury vinyl planks in Fort Myers, FL, offers a surface for every style and décor idea. From vinyl that mimics the traditional look of oak or even contemporary designs like whitewashed wood, every popular style is represented in our broad LVP selection.
Not sure what kind of flooring would look best in your room? We're here to help. Stop by our showroom to see and feel the products in person and browse our displays for design inspiration. Our knowledgeable staff members are also happy to answer any questions you have and make recommendations. Let us know what your stylistic preferences, performance expectation, and price range are, and we'll match you with the perfect luxury vinyl plank floor.
Bringing the Wood Look to More Homes
Hardwood has been a favorite flooring option among homeowners for centuries. However, it doesn't fit into every household's budget. For those who want the look of wood but balk at the price, LVP is the perfect solution. It imitates the appearance and texture of genuine wood so well that many people cannot tell the difference right away. Furthermore, the money you save by choosing vinyl planks can go towards renovating other aspects of your home, spreading the value further.
What Makes Luxury Vinyl Special
Luxury vinyl plank floor installation brings a variety of benefits to your home. First, it is highly water resistant, making it ideal for the wet areas around your house. Kitchens, bathrooms, laundry rooms, and entryways are all perfect for vinyl. Likewise, it's a great choice for households with young children or pets since it is stain resistant.
Cleaning is easy with LVP. You have the option to either routinely sweep or vacuum — whatever works best for you. Add in some occasional mopping and your vinyl floor will always be ready for company. Furthermore, vinyl doesn't demand any additional, special maintenance.
Many people also appreciate how soft an LVP floor feels underfoot. When you stand for long periods cooking at the stove or washing dishes in the sink, you'll be glad you picked vinyl. Likewise, LVP also provides a good degree of insulation and soundproofing. For more information on these vinyl benefits and others, reach out to our team today.
Contact us to start exploring the many vinyl plank options for your home improvement project. We proudly serve clients from throughout Fort Myers, Florida, and the neighboring communities.