Upgrade Your Home with Luxury Vinyl Tile in Fort Myers, FL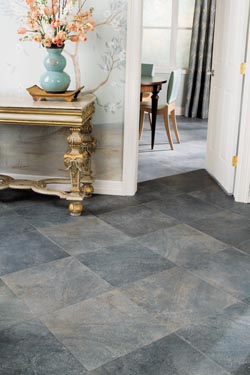 Are you tired with the look and feel of the floors in your home? At Carlson's Flooring America, we have you covered. We offer a variety of excellent and comfortable flooring solutions, including our exceptional luxury vinyl tile in Fort Myers, FL. With luxury vinyl, you can give your home the aesthetics of natural stone and ceramic tiles, while providing a softer surface for walking on.
Additionally, LVT is very easy to maintain, with messes generally wiping away with a simple damp cloth or mop. Vinyl tile is also water resistant, allowing it to be installed in nearly any space, giving you a beautiful and comfortable floor in every room. With so many great benefits, a luxury vinyl tile floor is a cost-effective investment for your home.


Limitless Designs
No matter what design aesthetic you are trying to achieve in your home, we have a solution for you. LVT is made in a near limitless number of colors, shapes, and patterns. So, whether you are looking for the majestic feeling of natural stone, the clean-cut look of ceramic, or the rustic appeal of wood grain, there is a set of luxury vinyl tiles for you.
If you are unsure of what design to choose for your home or need help exploring our vast collection of surfaces, then visit our store. Our team of flooring experts can help you decide what surface would work in each room in your home, as well as offer design advice for matching your existing décor.


Professional Installation
Ensure your new luxury vinyl floor looks great in your home by having our professional installation team handle the install. With our luxury vinyl tile floor installation services, our team will take care of everything needed to install your new surface in your home. Our team always works to ensure that your new flooring looks as good in your property as it did in our showroom.
Additionally, by having our team professionally handle your new flooring installation, you have peace of mind that your new floor is installed correctly. We have the tools and skills to properly fit the tiles into your space, making sure that you are getting the water resistance that an LVT floor provides. This will also ensure that your new vinyl flooring looks great for years.



Contact us when you are looking for LVT flooring for your home. We proudly serve Fort Myers, FL, and the surrounding areas.