Astounding Custom Cabinetry in Fort Myers, FL
Have you ever been in a home and admired how truly unique it was and how it reflected the character and tastes of the owner? Having custom features in your home creates an environment that really showcases your style, especially when you choose custom cabinetry in Fort Myers, FL, as the focal point for your kitchen and bathroom.
At Carlson's Flooring America, our team is ready to help you decide upon the options you feel are going to complement the rest of your home and bring another level of flair and vibrancy to the picture.
Find Precisely What You Want
There are a lot of cabinet choices on the market, including many styles and options for materials, hardware, and finishes. It can be a daunting task to look at everything and try to narrow your selection down to one or even just a few potential candidates for your kitchen renewal.
We have a well-stocked showroom where you can browse through samples and cabinets to find which works best for your plans. Our inventory is extensive, but don't worry as we have trained and experienced designers who work closely with you to help sort through the range of wall cabinets and vanities as well as all the other items you need to consider. You and your dedicated design professional will bring your vision to life.
The Difference is in the Details
It's said that the details make the difference, and it's true for home remodeling and renovations too. You can have a regular room that looks very nice and comfortable, or you can take the same room and give it a stylish impact thanks to the crown moldings we offer.
Moldings create impressive results in any home while not being an overwhelming feature. It's a detail which speaks of subtle style and elegance that blends into the overall design.
Pictures of Wall panels, Crown molding, and Baseboards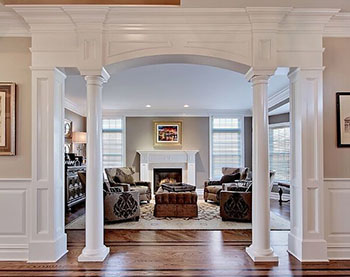 Crown Molding - Designed to flare out a finished top edge, crown molding is used for capping walls, pilasters, and cabinets. They are used in the creation of interior and exterior ledge assemblies, doors, and window hoods.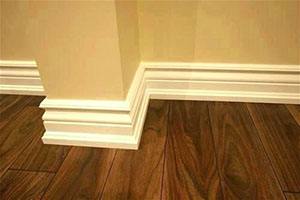 Baseboards - Usually wood or vinyl board which covers the lowest part of an interior wall. This is used to cover the joint between the wall and the floor by adding some additional details and flair. Baseboards can cover and protect the wall from scuffs, kicks, abrasion, and furniture.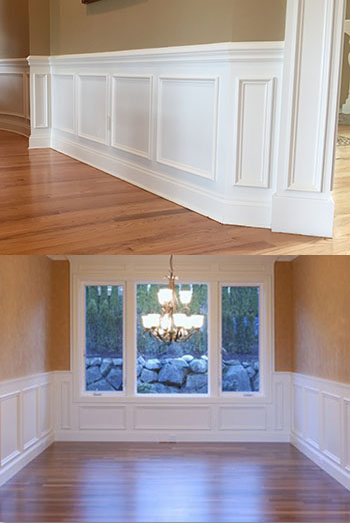 Wall Panels and Wainscoting - Decrotive paneling used to add additional accents, insulation, and to protect a wall from damage. Wainscoting is typically made of wood but can come in a variety of materials which would cover the lower three to four feet of the interior wall. The types of Wainscoting include but are not limited to: raised panel wainscotting, flat panel wainscotting, board and batten, and beadboard.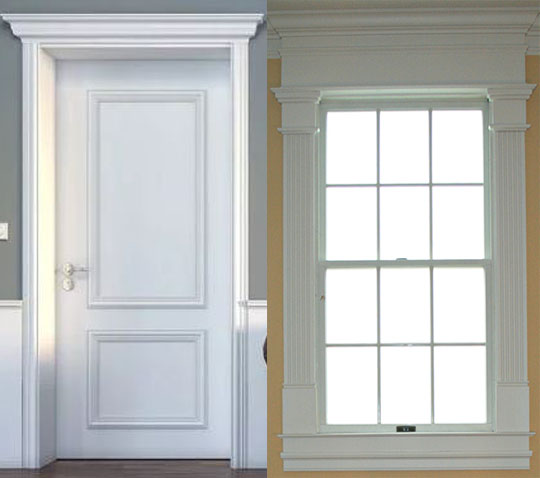 Door and Window Molding - Moldings are used to add an additional accent frame around doors and windows. They can be used on the outside of a house to seal the window frame to the house and blocking out cold air from entering the interior, or to add the finishing touch to a window or door installation. Commonly, these moldings will match any other moldings used in the room to make the design more cohesive and complete.
Names You Can Trust
We provide nothing, but quality kitchen cabinet brands from some of the best names in the business, so you know your cabinets will look great and last. The products we carry come from such stellar manufacturers such as:
Greenfield Cabinetry
Dura Supreme
Homecrest
Bertch Vanities
Work with us to make these elements of your home as beautiful as they are functional. We are ready to help you today.
Contact us for a quote today. We proudly serve commercial and residential customers in Charlotte, Lee and Collier counties.