Paint in Fort Myers, FL

Renew and revitalize your interior with our selection of paint in Fort Myers, FL. Our home remodeling showroom features a wide array of colorful paints from well-known manufacturers. Customize the aesthetic appeal and enhance the strength of your interior all at once. With our selection of interior paint and finish, you will be able to begin the next phase of your remodeling project with confidence. We sell many different products from well-known paint brands, ensuring quality you can see through every coat.
The advantages of wall painting are many. Besides the joy of a brand new look, it can make cleaning much easier and less expensive. Paint prevents dirt and grime from getting embedded into the surface, and ours is designed to keep up its color for a long time while still being simple to remove when necessary. We can help you find the best brands and types of paint and advise you on how to care for them, so they keep your walls safe for a long time and coordinate with all of your furniture and décor.
The Benefits of Investing in Quality Interior Paint
Your home is a reflection of you as a property owner. By customizing the color of your rooms, it is easier to give each section of your home a distinct atmosphere--and personality--of its own. Impart a warm welcome or establish a cool ambience to your favorite spaces, and set the tone for your interior design efforts. The right shades and colors of interior paint can work in conjunction with your flooring to create unique rooms.
New paint can also renew old surfaces and give them new life. Instead of replacing drywall or ceilings completely, retouching them with paint can add to their strength and longevity. On top of that, a new coat of paint can increase the value of your property. Set a new tone for your rooms and count on our selection of paint to highlight your next project.


From Flat to Eggshell, There's a Finish for Every Room
Not all rooms and paint products are meant for the same purposes. Therefore, you deserve to spearhead your project with the right materials in hand. Our showroom features samples of many different interior paints, including flat finish and eggshell finish. As its name implies, "flat finish" is a type of paint that shows little to no gloss or sheen when it dries. As such, these paints have a tendency to "absorb" light, which reduces glare and eye strain. This is a good choice for rooms that will be used more for relaxing or entertaining. Flat finish is also recommended for ceilings.
On the other side of the spectrum is "eggshell finish" paint, which is a type of material that exudes a satin, semi-gloss texture. As a result, surfaces with an eggshell finish have a tendency to reflect light, which makes the room appear brighter. The satin and gloss feel also mean it is easier to scrub away stains. Eggshell finish paint is recommended for rooms with high activity. Ask if your kitchen or bathroom paint colors are available in an eggshell finish.
Your Source for Tribute by Kilz Paint
Elevate the brilliance of any room with our selection of Tribute by Kilz paint. The Tribu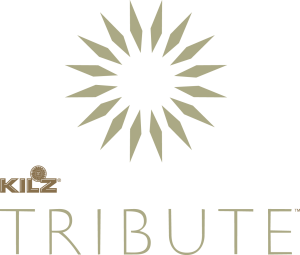 te line has earned a reputation for quality and longevity. Its vibrant and bold colors are matched only by its high performance and versatility. Tribute paints come pre-mixed with primer, which means that you can begin applying that first coat right after opening the can.
In addition, walls that are treated with these products can be scrubbed and cleaned without losing their luster or color. When you're choosing paint colors and want to create a room that is attractive and ready for everyday activities, Tribute by Kilz is always a smart choice.


Project Planning Made Easier
Are you ready to turn your interior design in a new direction? We're here for you! Visit our showroom and consult with our knowledgeable representatives for bedroom paint colors and more. We listen carefully to your design goals and locate the paints that will best fit your vision for that perfect room.
Whether you are planning to revitalize a single area or your entire home, we'll help you select and order the right materials for the job. Best of all, our paint products are arranged to coordinate with our most popular flooring brands and types. This makes selection much quicker. We make remodeling a hassle-free experience.



Contact us to request a consultation for interior paint. We proudly serve homeowners throughout Fort Myers, Florida, and the surrounding area.