Durable Waterproof Flooring in Fort Myers, FL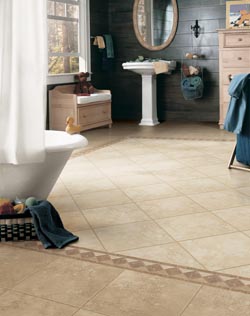 As much as we try to avoid them, there will always be spills and splashes that get your floors wet. Fortunately, Carlson's Flooring America offers the most gorgeous waterproof flooring in Fort Myers, FL, that home and business owners need to protect their home from the dangers of water damage. From random mishaps to children spilling juice to overflowing toilets, our floors will withstand it all, protecting the underlying foundation from rot and mold. We carry a wide variety of styles from the top manufacturers in the industry, ensuring that we have a look that's right for you. Turn to us for help protecting your baseboards, foundation, and flooring from the potential damage caused by water.

Little spills may not seem like a big deal. However, over time, these tiny accidents can create larger problems as they pile up. This is especially true of carpet and hardwood, both of which absorb water in different ways, making it difficult to ensure the water is fully removed. Waterproof floors are the solution you are searching for that can prevent these small spills from causing serious damage over the years, combined with the protection you get from catastrophes such as burst pipes and overflowing toilets. With our waterproof floors in your home, you can rest easy knowing that spills will become no more than a minor nuisance.
Beautiful and Functional
Whether you're looking for waterproof luxury vinyl planks or waterproof carpet, we have the styles you need to perfect the look of your home. Many of our customers come to us thinking that their choices will be limited by their need for a waterproof option. However, with a flooring catalogue as large as ours, and our access to the finest brand names available, you won't have to sacrifice looks for utility. Our selection of water-resistant vinyl flooring comes in a huge variety of styles, mimicking any flooring type you may need, and nearly any of our carpets come in waterproof form.
Regardless of what your personal sense of style may be, we have the flooring you need to match it. We believe that every home is different, and every client is unique. That is why we make sure to custom tailor our services directly to your needs. Sit down with a member of our design team today to discuss your options for water resistant carpet and luxury vinyl.

Contact us today to go over your options for gorgeous new waterproof flooring. We are proud to serve Fort Myers, Florida, and the surrounding area.